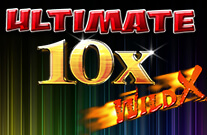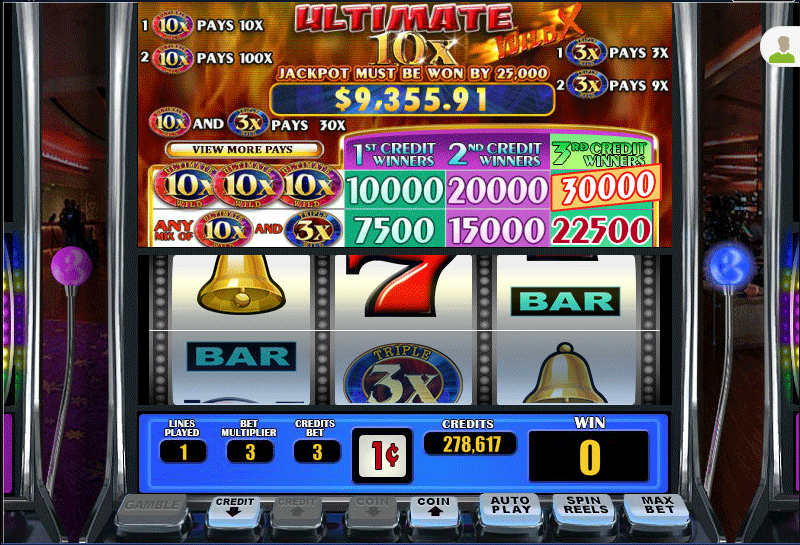 Game Info
| | |
| --- | --- |
| Reels | 3 |
| Paylines | 1 |
| Min Coin | 0.01 |
| Max Coin | 5.00 |
| Max Bet | 15.00 |
| Jackpot | Progressive |
| Wild Symbol | 10x & 3x |
| Scatter Symbol | N/A |
| Free Spins | N/A |
| Bonus Feature | N/A |
| Payout % | 95.09% |
Ultimate 10x Wild Slots Pairs Simplicity With Big Payouts
The progressive jackpot in Ultimate 10x Wild slots is one of the main draws. It's awarded by the time it reaches $25,000. That doesn't take long at all with the popularity of this three-reel slot game. It's an easy game to play, but the rewards are great.
The game's basics are pretty easy to understand. Place your bet. The amount you bet determines what you stand to win. You can bet one, two, or three credits. You also need to set your coin value. Options include 1, 5, 10, 25, and 50 cents or $1 to $5.
Once you've set those, spin the reels or set up autoplay. With autoplay, the computer can take over for up to 500 spins. You can set parameters like stopping autoplay after winning the jackpot or when your balance drops by a set number of dollars.
Moving on to Potential Winnings
In addition to the progressive jackpot that's always possible with Ultimate 10x Wild Slots, you'll win coins when certain symbols appear on the pay line. The payouts for a one, two, and three-credit wager go like this:
One cherry – 2, 4, or 6 coins
Two cherries – 5, 10, or 15 coins
Three cherries – 8, 16, or 24 coins
Three bars – 10, 20, or 30 coins
Three dollar signs - 15, 30, or 45 coins
Three bells – 25, 50, or 75 coins
Three 7s – 50, 100, or 150 coins
Three 3x logos – 5000, 10000, or 15000 coins
A mix of 3x and 10x logos – 7500, 15000, or 22500 coins
Three 10x logos – 10000, 20000, or 30000 coins
Multiply the Prizes With the Help of the 3x and 10x Logo Symbols
The two highest paying symbols also deliver special perks. The 3x and 10x logos act as wild cards. The 3x logo increases your prize by 3x or 9x when it appears once or twice in a winning combination. The 10x logo increases your prize by 10x or 100x when it appears once or twice. For example, if you get two 10x logos with a bell, multiply the prize for three bells by 100. If you get two bells and one 10x, multiply the prize by 10.
That's all there is to know about Ultimate 10x Wild slots. It's not difficult at all. The rewards, however, are incredibly grand. Many players have won the jackpot on their first couple of spins and haven't risked much cash at all on those spins. You might be the next jackpot winner. Play now.