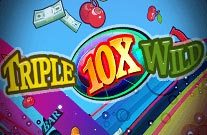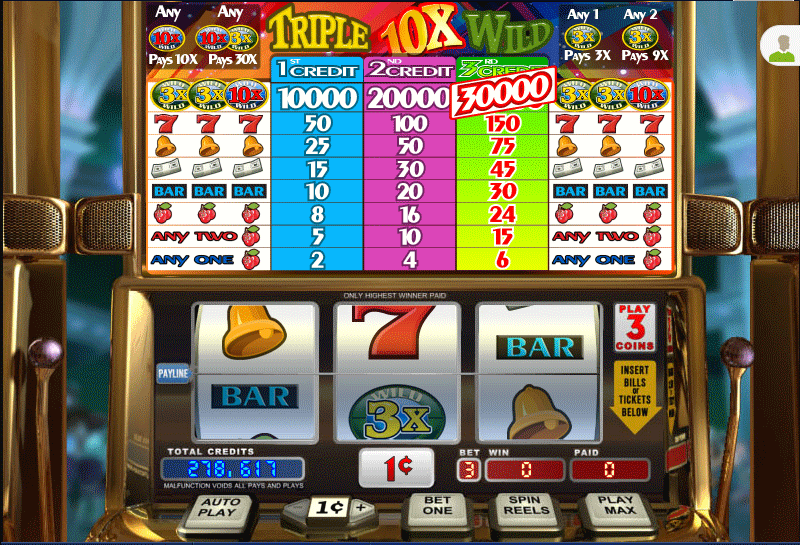 Game Info
| | |
| --- | --- |
| Reels | 3 |
| Paylines | 1 |
| Min Coin | 0.01 |
| Max Coin | 5.00 |
| Max Bet | 15.00 |
| Jackpot | Progressive |
| Wild Symbol | 10x & 3x |
| Scatter Symbol | N/A |
| Free Spins | N/A |
| Bonus Feature | N/A |
| Payout % | 95.09% |
Multipliers Lead to Huge Payouts in Triple 10X Wild Slots
Triple 10X Wild slots is a three-reel slot that features two wild symbols. Those symbols lead to big rewards thanks to their status as multipliers. It can seem confusing at first, but with the paytable right on the same screen, it's easy to track how much you're going to win.
The Highest Prizes Are 10k, 20k, and 30k
The amount you win depends solely on your wager. Here's why it's best to bet all three credits. If you do, the top prize increases to 30,000 coins. With a one-coin or two-coin wager, you'll be able to win up to 10,000 or 20,000 coins.
Your wager determines how much you can win. If you bet one credit, you have these prizes:
One Cherry – 2 coins
Two Cherries – 5 coins
Three Cherries – 8 coins
Three Bars – 10 coins
Three Bundles of Cash – 15 coins
Three Bells – 25 coins
Three 7s – 50 coins
Now take those prizes to figure out the rest of the paytable. If you've bet two credits, double those payouts. If you've bet all three credits, triple them.
Wilds Pay More and Increase Prizes
The 3x and 10x wilds pay the highest prizes of 10k, 20k, and 30k, again depending on how many credits you've bet. They can also greatly increase your other winnings. Each of the wilds has a multiplier of 3x or 10x.
If you have two symbols with one 3x wild helping out, your prize gets the 3x multiplier. For example, on a one-credit wager, two bars with the 3x wild leads to a prize of 30 coins.
If you have one symbol with two 3x wilds, your prize is multiplied by 9. Therefore, one bar with two 3x wilds increases your prize to 90 coins.
If you have a winning line with the 10x wild, your winnings get multiplied by 10. That same bar that's normally worth 10 coins gets multiplied by 10 for a total prize of 100 coins.
When you have one symbol with a 10x multiplier and a 3x multiplier, your prize is increased by 30x. For example, you have the bar, a 3x wild, and a 10x wild on the line. You now get the 10-coin prize multiplied by 30x. You'd win 300 coins.
Don't forget that you're also doubling and tripling those prizes if you have wagered two or three credits. You'll find that the prizes quickly increase with the help of those two wilds.
You cannot overlook Triple 10X Wild slots. With the coin value set at $10, you can play for just $30 per spin. For that small bet, you stand to win $300,000. Imagine what you could do with all of that money! Play today at Miami Club Casino.