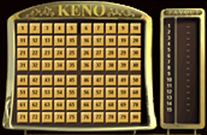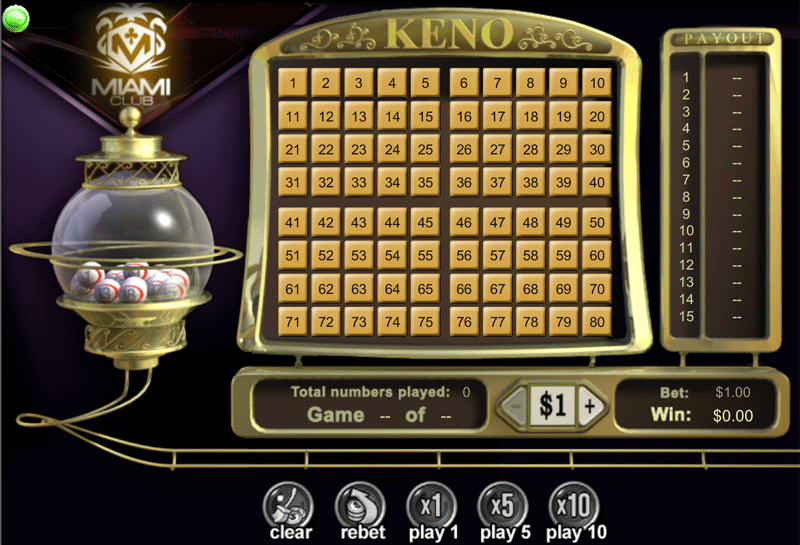 For Bingo Lovers, Miami Club Casino has Keno!!
If you love Bingo, you'll adore Keno. The game is similar to Bingo, except you predict the numbers that will be called beforehand.
Keno is a game where you bet on the numbers you feel the computer will call. It's a luck-based game, but if you do well, it can be one of the most rewarding games around.
Placing Your Bet
In Keno, you bet $1, $2, $5, or $10 on up to 10 rounds. After you've decided what to risk, you pick up to 15 numbers out of the possible 80.
Once you've placed your bet and pick your numbers, you'll decide how many rounds to play. Clicking that choice starts calling numbers. Each time a number you picked is called, you'll see the payout grid increase.
Prizes in Keno
The amount you win depends on how many numbers you've played. If you pick all 15, the payouts are as follows.
3 or 4 correct numbers – 0.5x
5 correct numbers – 1x
6 correct numbers – 2x
7 correct numbers – 5x
8 correct numbers – 15x
9 correct numbers – 50x
10 correct numbers – 150x
11 correct numbers – 300x
12 correct numbers – 600x
13 correct numbers – 1,200x
14 correct numbers – 2,500x
Getting all 15 right is amazing and offers the most rewarding prize of all. You'll walk about with 10,000x.
If you don't select the full 15 numbers. The payouts change. If you pick six numbers, you'll win 0.5x to 75. Picking just one number puts the payout at 3x. A 10-number bet pays 0.5x to 1,800x. It's up to you to decide how much you want to risk and potentially gain.
Payouts are calculated by each play. Think of a play as a round. If you get 10 correct numbers in one round, you win your prize and the next play begins and adds to your winnings. The payout table remains in place for each play and you can see your bet and win totals at the bottom of that payout table. This makes it easy to track what you're winning.
Give Keno a try. You can play for fun until you're ready to play for real money. You'll find it's an easy game to get the hang of after just a few free rounds at Miami Club Casino. Good luck.