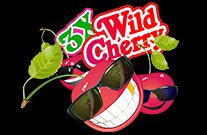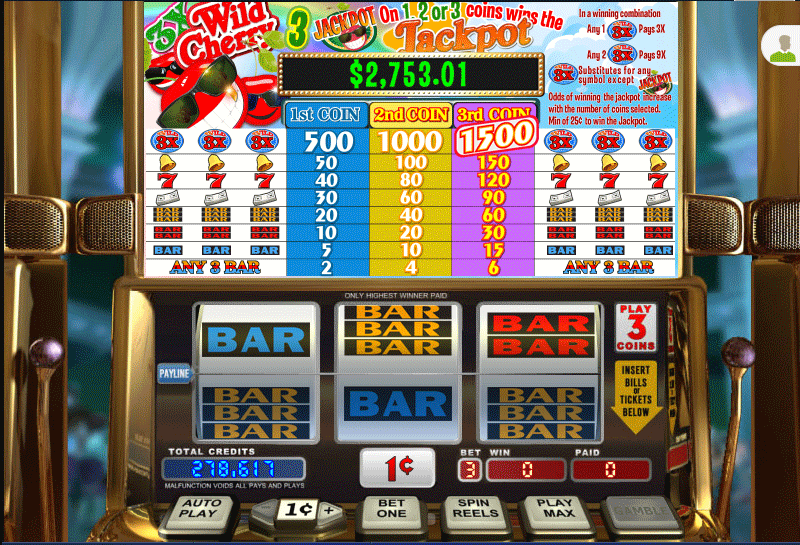 Game Info
| | |
| --- | --- |
| Reels | 3 |
| Paylines | 1 |
| Min Coin | 0.01 |
| Max Coin | 10.00 |
| Max Bet | 30.00 |
| Jackpot | Progressive |
| Wild Symbol | 3x |
| Scatter Symbol | N/A |
| Free Spins | N/A |
| Bonus Feature | N/A |
| Payout % | 95.09% |
3x Wild Cherry Slots Offers 3x or 9x Multipliers and a Progressive Jackpot
It's bright and cheerful. It's also a very rewarding three-reel slot. Meet 3x Wild Cherry slots. Bet up to three credits that range in value from a penny to $10 each. With a maximum bet of $30, you can win a bundle without ever risking that much cash.
For your minimal wager, there's a progressive jackpot that's up for grabs. The more credits you choose, the better your odds of winning the jackpot. This is why it's worthwhile to bet all three credits. You have the best odds at a jackpot that is often worth thousands of dollars.
How Do You Win the Jackpot?
The progressive jackpot in 3x Wild Cherry is awarded when you get three Smiling Cherry jackpot symbols on the center of the reels. You do have to have the coin value set at 25 cents or more.
What Other Prizes Are Offered?
The amount you can win depends on your bet. One credit leads to these prizes:
2 coins for a mix of single, double, and triple bar symbols
5 coins for three single bars
10 coins for three double bars
20 coins for three triple bars
30 coins for three bundles of cash
40 coins for three 7s
50 coins for three bells
500 coins for three 3x wild symbols
To determine the prizes with a two or three-credit wager, double or triple those prizes. For example, you can win up to 1,000 coins with a two-credit wager or 1,500 coins for a three-credit wager.
Earn More With the Wild
The 3x wild symbol can also increase your prize. If it appears once on a line, you earn a 3x multiplier. For instance, if you have two 7s and one wild 3x on the line, you'll win 120, 240, or 360 coins depending on how many credits you're betting. If it appears twice, your prize is multiplied by 9x. Using the 7 symbol again, two wild 3x symbols with one 7 symbol pays 360, 720, or 1,080 coins.
How to Get Started
To play 3x Wild Cherry slots, set your wager. Once that's completed, you can hit "spin reels" or "autoplay." Autoplay is good for up to 500 spins. If you know you want to bet all three credits, set your coin value and hit "play max."
That's all there is to 3x Wild Cherry. Look for it in today's best online casinos and start playing today.